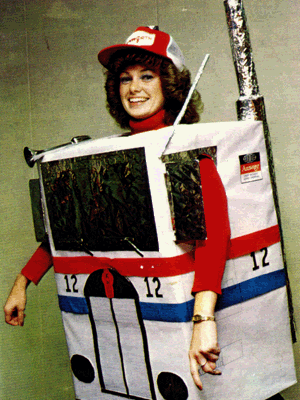 my mother, winning the Amway costume contest in 1979
with this amazing semi-truck trailer getup.
please note that the horn was a working horn.
two years later she married my steppop--a truck driver at Amway.

. . . . . .

A N N O U N C E M E N T S
if you enjoy memo-style entries, there is a new LJ community devoted to them, on Fridays mostly.
Please join us in the gymnasium after fourth period for a pep rally in support of the Le Monde H.S. varsity Party Team, which has a game Saturday night versus the Echo Park Hipsters. Come cheer for the LMHS Claws, whose costumes will be much-enhanced by the addition of hickeys. Remember to wear your black and blue! GO CLAWS!
On Wednesday night, the following convo took place:
"Let's meet Wednesday!" "Okay! What do you want to do?" "I don't know...I want to hear about you and care about you."
This gets filed under MOST MAGICAL THING ANYONE HAS EVER SAID EVER and was so totally rad I almost crapped on the barstool. Elizabeth gets 5,000,000 cute points and ventures deeper into the realm of AWESOME. Not that I need particular attention or anything, but just that someone exists who will put that kind of idea on the table. I also refer you to Justin's entry, and with a few minor additions this is my current, and hopefully for-a-long-time, state of mind. I call it Hopeful Acceptance, with a touch of Too Tired To Fight Anymore. But not in a goth way.
H A P P Y H A L L O W E E N ! clm.